Church Administrator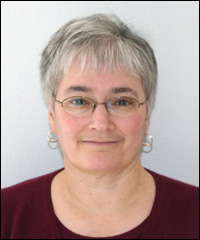 Beverly Cosby became Church Administrator in 2003. She previously served at Prairie as Church Secretary from 1994 to 1998.
Bev graduated from the University of Iowa in Iowa City, IA, in 1972 with a Bachelor of Music Education degree. She taught for seven years at an alternative high school (Metro) in Cedar Rapids, IA, and for two years at Seton Parochial School in Clinton, IA, before moving to Overland Park in 1983.
She has worked in the administrative field for over thirty years, most recently having served as the Assistant to the President at Central Baptist Theological Seminary, Kansas City, Kansas.
Bev and her husband, Tony, have two sons and four grandchildren. She enjoys using her musical talents within the church setting and spending time with her grandchildren.
You contact Bev through e-mail at office (at) prairiebaptist (dot) org.