History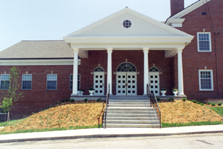 Prairie was founded in 1950 by 13 people on the then growing edge of Kansas City, who wanted to reach beyond their neighborhood to the whole world with the good news of God's Love. They affiliated with the American Baptist Churches USA to help accomplish this mission. Today, our congregation numbers approximately 600 people of all ages, diverse theologies and politics and many different religious backgrounds or none at all. It is challenging, but we want to be a church where people can disagree and still love one another. Bearing the likeness of the Triune God, we seek to be diverse, hospitable, and missional. As American Baptists, we believe we are called to transcend divides of gender, ethnicity, and culture and form a new community of hope and inclusion.
We serve our neighborhood and far beyond, hoping to further God's purposes in our lives and world.
Prairie strives to be a church where thinking and faith are not mutually exclusive.
We value and nurture the gifts and voices of all God's people.
Justice, children, spiritual formation, freedom, mission, wonderful worship, and amazing grace are priorities.